The Symposium was held in The Hague, on 17 April 2018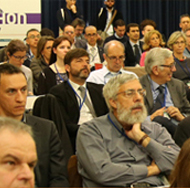 The 2018 IHE Symposium was a speaker event designed for delegates to learn about the impact of IHE Profiles and subsequent deployment of eHealth solutions from across the globe. The theme was Getting the Basics Right- Key Success Factors in Interoperability. Attendees learned from international speakers, engage in stimulating discussions, network with peers, and receive VIP tours of the Connectathon floor. This event happened the Tueday of Connectathon week in the Fokker Terminal.
The following speakers provided strategic updates and/or shared their best practice experiences with eHealth:
Didi Davis - Testing Programme Director for The Sequoia Project, USA
Tapani Piha - Head of Cross Border Healthcare and eHealth Unit, DG SANTE (European Commission)
Jürgen Brandstätter - IHE-Europe Vendor Co-Chair, Austria.
Geert Kazemier – Head of GI and Oncology Surgery, The Netherlands.
Renie Heerbaart - Director IZIT, The Netherlands.
Gunter Rauchegger - Managing Director, ELGA GmbH, Austria.
Philippe Le Dréau - Project Manager, GCS Normand eSanté, France.
Mathias Uslar – Senior Principal Scientist, OFFIS, Germany.
Alexander Berler / Eric Poiseau - IHE-Europe.
Petra Wilson - Managing Director, Health Connect Partners, Belgium.

The full programme is available here.
The speaker slides are available here.