We are delighted to announce the
opening of the Registration for the IHE-Europe 2023 Connectathon
. You can
register here.
To learn more about the Connectathon and why and how to register, please check the recorded Registration Webinar here or click here to view the slide presentation only (log in as guest).

The five-day 'Connectivity Marathon' will again take place in the beautiful venue of the historic Couvent des Jacobins, Rennes, Brittany, France from 25 to 29 September 2023.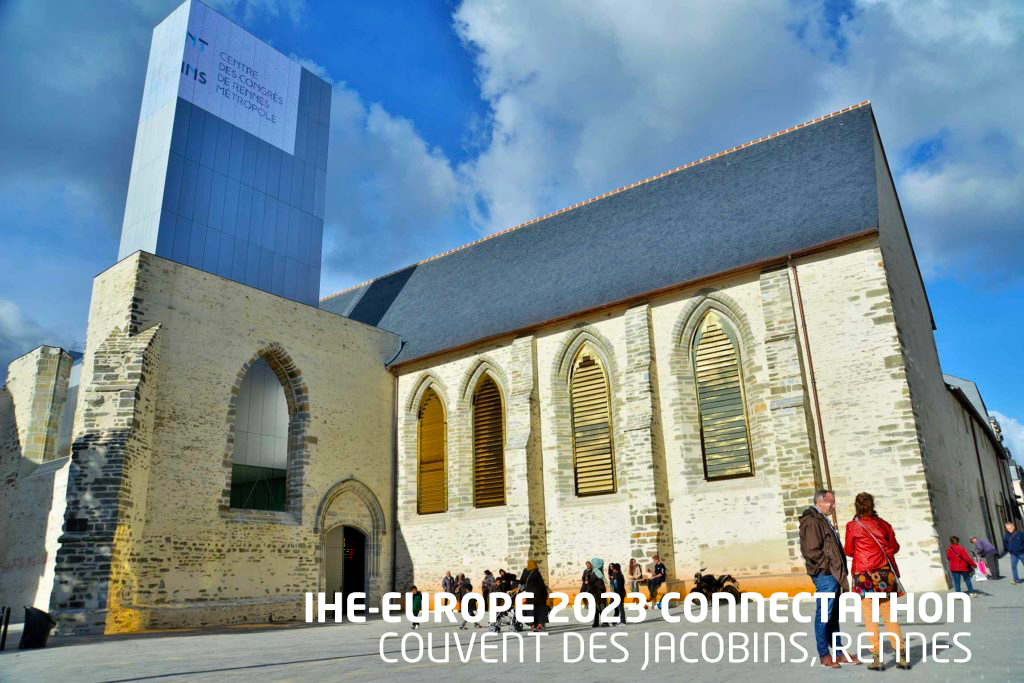 Home of the 2019 IHE-Europe Connectathon, the Couvent des Jacobins is an ideal venue for the IHE-Europe Connectathon; excellent facilities for both the Connectathon and the associated meetings and events that comprise the 2023 IHE-Europe Connectathon Week. A lot has happened in the world over these four years, but exhibitors and delegates will recall the vibrancy of the city of Rennes. We look forward to welcoming you in Rennes in September at the next Connectathon Week. As in previous years, we expect many IHE Profiles to be tested at Rennes and the focus will be put on the International Patient Summary (IPS) and AI in Radiology.
Vendors registering before 30 March 2023 or being an IHE-Europe member can profit from the early bird rate. There is also a discount for first-time participating vendors as well as for vendors that implement one of the following supporting Actor/Profile combinations:
•
LAW (Laboratory Analytical Workflow) Analyser and Analyser manager actors (PaLM domain)
•
LTW (Laboratoty Testing Workflow) Order Placer and Automation Manager actors (PaLM domain)
•
SWF.b (Scheduled Workflow) Order Filler and Order Placer actors (RAD domain)
NOTE WELL – Early bird rates end on 30 March 2023.
Don't miss this unique opportunity to join the Connectathon and test the interoperability of your products in a structured environment with peer vendors, learn about the best practices and the latest and future planned standards developments and of course to network with colleagues, peers and interoperability experts from around the world.
Connectathon participation rates:
•
System fee: 6500€ per system under test.
•
Participant fee: 650€ per attendee onsite (full week)
Discount options:
•
First time participant (limited to 10 organisations): 4225€ (35% off) for the first system.
•
Systems implementing one of the supportive actors (limited to 3 systems per actor): 3250€ (50% off) for the system and 325€ (50% off) for attendees (up to 2 people).
•
Early bird (contract received by IHE-Europe's secretariat before or on 30 March): 5200€ (20% off) per system; This early bird price will also be applied for organisations that did not participate in an IHE Connectathon after 2017.
•
Members of IHE-Europe: 5850€ (10% off) per system under test (an organisation can apply for membership to obtain the discount)
Registration will close on 26 May 2023.