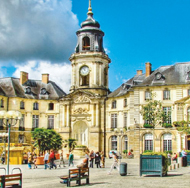 Book your accomodation in Rennes here!
We encourage you to book as soon as possible to enjoy many hotel options. The rates include breakfast and VAT. The tourist tax is extra and payable upon departure at the hotel.

A full prepayment is needed to guarantee the booking. Free cancellation or modification is available up to 30 days prior to the arrival date. Beyond this date, your deposit will not be refunded.
This booking platform closes on March 6th, 2019 at noon.
If you need help with booking or want to extend your stay (before or after the event), please contact Destination Rennes:
- by phone : + 33 (0)2 99 45 90 90
- by e-mail : hebergement@destinationrennes.com
We hope you enjoy your stay in Rennes!